Space and Naval Warfare Systems Command (SPAWAR)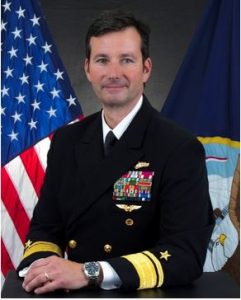 Rear Adm. Christian "Boris" Becker, Commander, Space and Naval Warfare Systems Command (SPAWAR)[1]
The Space and Naval Warfare Systems Command (SPAWAR) is known as the Navy's Information Dominance systems command. SPAWAR is tasked to develop, deliver, and sustain communications and information capabilities for the warfighter by keeping them connected at any time in any location. SPAWAR, in collaboration with their space support activity, two system centers and through partnerships with three Program Executive Offices (PEOs), provides hardware and software necessary to execute Naval missions. The SPAWAR team consists of over 10,000 military and civilian personnel.[2]
As the Information Dominance command, SPAWAR's products and services transform ships, aircraft and vehicles from individual platforms into integrated battle forces. To do so, the command is organized into eight competencies: finance, contracts, legal, logistics and fleet support, engineering, acquisition and program management, science and technology, and corporate operations.[2]
SPAWAR provides capabilities in areas of intelligence, surveillance, and reconnaissance (ISR); cyber warfare; command and control (C2); information and knowledge management; communication systems; and enabling technologies such as meteorology and oceanography. SPAWAR programs and efforts cover the complete life cycle from research and development, system-of-systems engineering, test and evaluation, acquisition, installations and in-service support. The organization works closely with the Fleet, systems commands, and Navy partners to deliver capabilities by procuring and/or integrating sensors, communications, weapons, and information and control systems for current and potential ships, aircraft, submarines, and unmanned systems.[2]
SPAWAR PEOs
SPAWAR's PEOs include:
PEO Command, Control, Communications, Computers and Intelligence (PEO C4I)
PEO Enterprise Information Systems (PEO EIS)
PEO Space Systems[2]
SPAWAR Organization Chart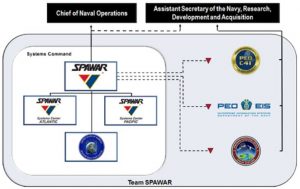 Source: U.S. Navy[2]
Updated by Kristin Stiner, April 2018