PM LIGHT ARMORED VEHICLE
The mission of Program Manager Light Armored Vehicle (PM LAV) is to sustain and modernize the Family of Light Armored Vehicles. The office consists of multi-functional acquisition personnel responsible for the lifecycle management of current and future LAV fleets. Integrated Product Teams (IPTs) within the office include Obsolescence, Anti-Tank Modernization, Foreign Military Sales and Fleet Sustainment. [1]
The LAV product portfolio includes command and control, electronic warfare, logistics and recovery in addition to the Mortar 81MM, 25MM Light Assault, and Anti-Tank.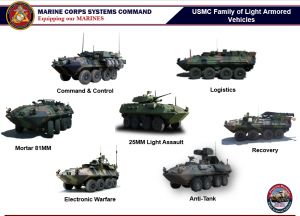 Source: Marine Corps Systems Command, 2018 [2]
PM LAV's Lines of Effort
Anti-Tank Weapons System– replacement of the legacy M901A1 turret with a modern turret that provides long-range, stand-off anti-armor fire support to maneuvering Light Armored Reconnaissance Companies and platoons, and observation capability in all climates and during periods of limited visibility.
Reset Program- Replaces the major obsolescence drivers within the FOLAV. (power pack, driveline, and steering sub systems, and fields a modern Driver's Instrument Panel (DIP) and LAV-25 slip ring).
Foreign Military Sales- US Program Manager for LAV acquisitions, testing and sustainment support for FMS Partners.
Fleet Sustainment– Configuration Management, Readiness Analysis (Trend Identification), Fleet Support, Integrated Logistics Support (Provisioning, Cataloging), Diminishing Manufacturing Sources & Material Shortages (DMSMS). [2]
Armored Reconnaissance Vehicle (ARV)
The Marine Corps plans to begin replacing its legacy Light Armored Vehicle (LAV) with a modern Armored Reconnaissance Vehicle (ARV) late in the next decade. The LAV has supported Marine Air-Ground Task Force (MAGTF) missions on the battlefield since the 1980s. While the LAV remains operationally effective, the life cycle of this system is set to expire in the mid-2030s, and the Corps aims to replace the vehicle before then. The ARV will be highly mobile, networked, transportable, protected and lethal. The capability will provide, sensors, communication systems and lethality options to overmatch threats that have historically been addressed with more heavily armored systems. [3]
Updated by Kristin Stiner, March 2020