WHAT IS BIOMASS?
As defined by the Energy Security Act (PL 96-294) of 1980, biomass is "any organic matter which is available on a renewable basis, including agricultural crops and agricultural wastes and residues, wood and wood wastes and residues, animal wastes, municipal wastes, and aquatic plants."[1]
The following text introduces common biomass feedstocks as defined by the U.S. Department of Energy's (DOE) Office of Energy Efficiency & Renewable Energy (EERE). "Terrestrial lignocellulosic biomass which includes plants and plant based materials not used for food, is an abundant, renewable, and sustainable resource for producing biofuels, bioproducts, and biopower."[2]
Examples of biomass feedstocks include:
Agricultural residues (e.g., corn stover)
Algae
Dedicated energy crops (e.g., switchgrass, miscanthus, energy cane, sweet sorghum, high biomass sorghum, hybrid poplars, and shrub willows)
Forestry residues (e.g., logging residues and forest thinning)
Waste streams and re-useable carbon sources (e.g., the non-recyclable organic portion of municipal solid waste, biosolids, sludges, waste food, plastics, C02, industrial waste gases, and manure slurries).[3]
The diagram below provides an overview of the FSL R&D scope and interface: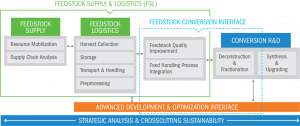 Source: Department of Energy, Office of Energy Efficiency and Renewable Energy (EERE)[2]