INDUSTRY LEADERS
Globally, GE Wind, Vestas, Siemens-Gamesa Renewable Energy (SGRE), Nordex, and Goldwind were top suppliers of wind turbines for land-based applications, according to the 2021 Land-based Market Report from the U.S. Department of Energy (DOE). The figure below shows that of the "16,836 MW of wind installed in the United States in 2020, GE Wind supplied 53%, with Vestas coming in second (34%), followed by Siemens Gamesa Renewable Energy (SGRE, 9%), Nordex (3%), and Goldwind (1%)." GE and Vestas have been key players in the U.S. market for quite some time.[1]
Annual U.S. Market Share of Wind Turbine Manufacturers by MW, 2005-2020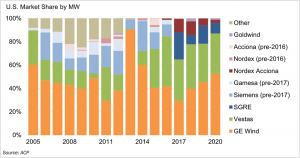 Several wind turbine manufacturers and suppliers provided PNNL with sales data for the DOE's 2021 Distributed Wind Market Report. Those manufactures are listed below with a table after it, detailing the model names and the company's headquarters.
ARPS World
Bergey WindPower Company
All Energy Management
Eocycle Technologies, Inc.
Hi VAWT Technology Corporation
Primus Wind Power
Star Wind Turbines
Ducted Wind Turbines, Inc.
Danwin
GE Renewable Energy[2]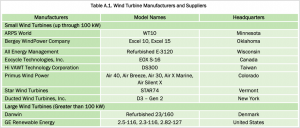 The 2021 Offshore Wind Market Report details the key OEM players in the market. Siemens Gamesa has a 55% market share. Other OEMs include Vestas, GE, Sewind, MingYang, and Goldwind. The wind turbine manufacturers the report evaluates are:
Siemens Gamesa
Vestas
Senvion
Goldwin
Envision Energy
Adwen
GE Energy
MingYang
CSIC
Bard
Sewind
Sinovel
Doosan Heavy Industries
Hitachi
Unison
Yinhe
The following figures depict the wind turbine OEM market share in operating projects and for announced projects, respectively.[3]
Offshore Wind Turbine Manufacturer Market Share in Operating Projects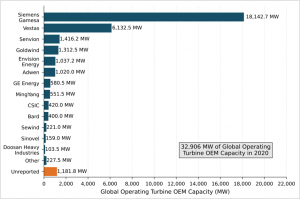 Offshore Wind Turbine Manufacturer Market Share for Announced Projects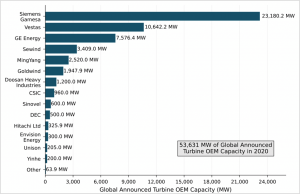 The DOE "Wind Energy: Supply Chain Deep Dive Assessment" report, published in February 2022, lays out the energy supply chain challenges and opportunities faced by the United States. According to this report, there are three primary OEMs with significant operations and manufacturing capacity for the U.S. land-based wind market. Those companies are GE, Siemens Gamesa Renewable Energy, and Vestas. While Nordex Acciona has little domestic manufacturing presence, it supplies a significant number of turbines to the United States. The table below outlines the supply chain announcements including the components and investors (with the investment amount, if known).[4]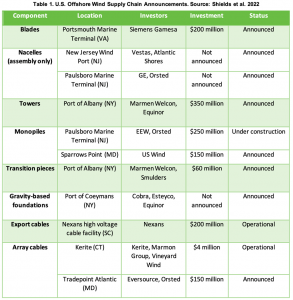 Updated June 2022 by Jennifer Ostromecki