STORAGE
HOW CAN HYDROGEN BE STORED?
Hydrogen storage presents a key technological challenge to the development and widespread use of fuel cell power technologies in transportation, stationary, and portable applications.[1] Hydrogen's energy content by volume is low, so it requires high pressures, low temperatures, or chemical processes to be stored compactly. Hydrogen can be physically stored as either a gas or a liquid. It can also be stored on the surfaces of solids by adsorption or within solids, by absorption. Or it can be stored through the reaction of hydrogen-containing materials with water or other compounds such as alcohols – termed "chemical hydrogen storage" or "chemical hydrides." It is also possible to store hydrogen in the chemical structures of liquids and solids.[2]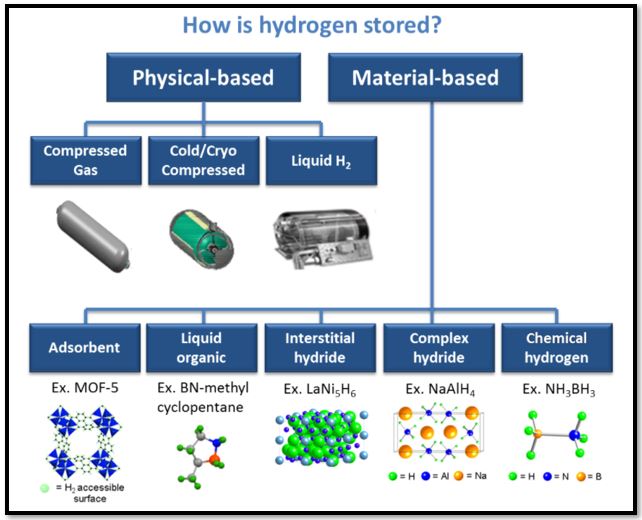 Source: Department of Energy [3]
On-board hydrogen storage is considered by many to be the greatest technical challenge to widespread commercialization of light-duty hydrogen fuel cell vehicles, because they often have limited size and weight capacity for fuel storage. Fuel cell vehicles will need to store enough hydrogen on-board to achieve a driving range of greater than 300 miles - a comparable distance to conventional hydrocarbon-fueled vehicles.[4]
WHAT DOE OFFICES ARE INVOLVED IN HYDROGEN STORAGE DEVELOPMENTS?
The DOE's Office of Energy Efficiency and Renewable Energy, Office of Fossil Energy and the Office of Basic Energy Sciences are just some of the DOE offices with interest in hydrogen storage, as is captured below.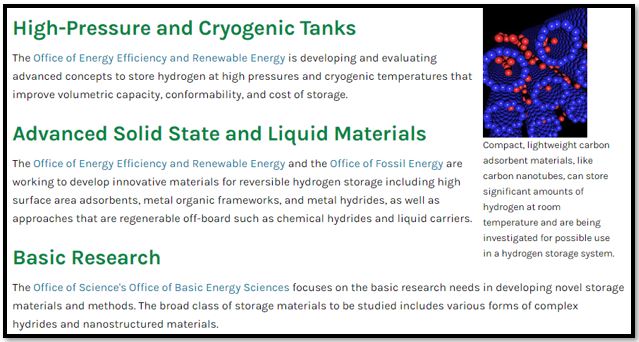 Source: Department of Energy[5]
Updated June 2022 by Erin Bennett