Safety, Security, and Mission Services
The FY 2023 budget request for Safety, Security and Mission Services ($3,208.7 billion) is split between Mission Services & Capabilities ($2,154.4 billion) and Engineering, Safety, & Operations ($1,054.3 billion).[1]
NASA's missions are enabled by Safety, Security, and Mission Services (SSMS) due to the foundational support capabilities they provide. Resources for the business and technical functions for 9 NASA centers and Headquarters are provided by SSMS funding.[2]
Due to NASA's priorities, there will an increase in five areas for FY 2023:
IT Infrastructure and Cybersecurity
Agency-Wide Security
Health & Safety
Diversity, Equity, Inclusion, and Accessibility [DEIA]
Physical Assets and Infrastructure Maintenance[3]
Both the SSMS and Construction and Environmental Compliance and Restoration (CECR) make up NASA's mission support portfolio. The Mission Support Directorate (MSD) uses SSMS and CECR to maintain NASA's infrastructure.[4]
Mission Support Directorate (MSD) Organization Chart: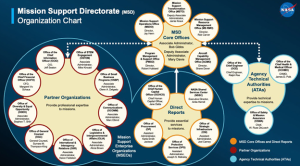 Source: NASA
Updated November 2022, by Jackie Johnson