Space Technology Mission Directorate (STMD)
The Space Technology Mission Directorate (STMD) develops crosscutting, pioneering new technologies and capabilities necessary for NASA to achieve current and future missions. These high-payoff, revolutionary technologies are rapidly developed, demonstrated, and integrated through collaborative partnerships. The STMD invests in and matures broadly applicable, disruptive technology not currently available in industry, in order to meet the needs of future NASA missions in science and exploration, as well as to lower the cost for other government agencies and commercial space initiatives. the STMD is focused on advancing technologies and testing new capabilities at the Moon that will be critical for crewed missions to Mars—the Moon is essentially serving as a technology testbed and proving ground for Mars.[1]
Programs supported by the Space Technology Mission Directorate include the following:
Center Innovation Fund
Flight Opportunities
Game Changing Development
Lunar Surface Innovation Initiative
NASA Innovative Advanced Concepts (NIAC)
NASA iTech
Prizes, Challenges and Crowdsourcing
Small Business Innovation Research (SBIR)
Small Business Technology Transfer (STTR)
Small Spacecraft Technology
Space Technology Research Grants
Technology Demonstration Missions
Technology Transfer
The structure of the Space Technology Mission Directorate is outlined in the following organization chart.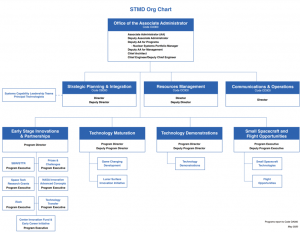 Source: NASA Space Technology Mission Directorate - 2020 Organization Chart
Updated September 2022 by Jennifer Ostromecki