Goddard Space Flight Center (GSFC)
Goddard Space Flight Center, NASA's first center for spaceflight, is the country's largest combined organization of scientists and engineers in the U.S. who are dedicated to expanding knowledge of the Universe, Earth, and the Solar System through observations from space. Located 6.5 miles northeast of Washington, DC in Greenbelt, Maryland, Goddard plays a major role in the operating and developing of unmanned scientific spacecraft.[1] It has launched several satellite telescopes, including COBE, which provided the first evidence of the Big Bang Theory, and several Earth-observing satellites. These satellites include Landsat and GOES. Landsat Program is responsible for the longest continuous space-based record of Earth's land.[2] This record makes decisions for Earth's resources and environment possible.[3] GOES allows meteorologists to monitor and predict local weather events.[4] GSFC works closely with the National Oceanic and Atmospheric Administration (NOAA) on these weather satellites.[5]
Goddard maintains and develops satellites for the National Oceanic and Atmospheric Administration and space and Earth science data information systems. In addition, they co-manage the Tropical Rainfall Measuring Mission (TRMM) satellite with the Japanese Space Agency (JAXA).[6]
GSFC's organizational structure is illustrated below.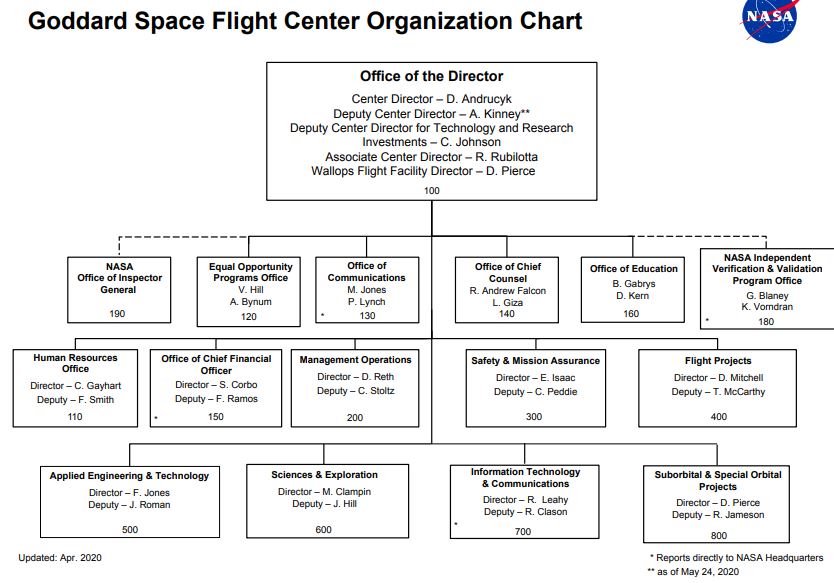 Source: NASA
GSFC Leadership
Key GSFC leadership includes:
Doing Business With GSFC
Information on doing business with GSFC can be found here. Technology spin-out and spin-in are offered by the Strategic Partnerships Office (SPO). This offering benefits NASA and the Nation. The Strategic Partnerships Office:
"actively seeks out Goddard research and development that can meet industry and national needs
documents newly developed technologies
patents Goddard-developed inventions
promotes Goddard technologies
facilities, and capabilities to potential partners
negotiates partnership agreements for technology transfer"[7]
More information regarding resources for partnerships and licensing and available technologies can be found here.
Updated by Jackie Johnson October 2022