NASA Organization
The National Aeronautics and Space Administration (NASA) is the U.S. agency responsible for the nation's exploration of space, scientific discovery, and aeronautics research. Located in Washington, DC under the leadership of the Administrator, NASA Headquarters provides overall guidance and direction to the agency. Day-to-day work in conducted at 10 field centers and a variety of installations, in laboratories, on airfields, in wind tunnels, and in control rooms.
The following chart depicts the most recent NASA organizational structure. It was last updated in February 2022.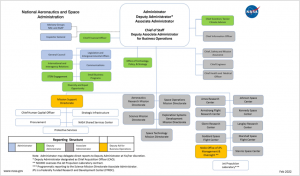 The current Points of Contact appointed for those roles are listed on a NASA Organization Structure page and include hyperlinks to their respective bio pages.
Updated September 2022 by Jennifer Ostromecki