STEM ENgagement at NASA
NASA STEM Engagement offers tools to educators and students aimed to create authentic learning opportunities that spark interest and connect to NASA's mission. One of the primary goals is to build a diverse STEM workforce for the future. The portfolio consists of a diverse set of activities and products, which include internships, fellowships, and student learning opportunities as well as educator support and competitive awards. In 2021, the NASA internship program saw a 23% increase in internships from 2020, including a 78% increase in the diversity of the applicant pool. [1]
There is a demonstrated need to cultivate interest in STEM amongst American youth. In the last decade, U.S. students have showed little or no growth in mathematics according to recent national and international tests. However, the nation needs a skilled STEM workforce and NASA has a proven interest in engaging future STEM professionals. [2]
The STEM Engagement program encompasses four projects: the NASA Minority University Research and Education Project (MUREP), National Space Grant College and Fellowship Project (Space Grant), Established Program to Stimulate Competitive Research (EPSCoR) and the Next Generation STEM Project (Next Gen STEM). [3]
The NASA Advisory Council STEM Engagement Committee is comprised of new and returning committee members. Meeting notes, as far back as 2015, can be downloaded on the NASA website.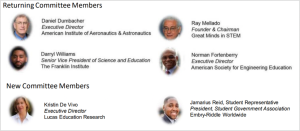 Source: NASA STEM Engagement
The STEM architecture is depicted in the graphic below.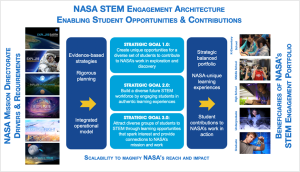 Source: NASA Strategy for STEM Engagement
In terms of budget, the STEM Engagement request has increased the last few years with a steady increase planned through FY27. There was a $20 million budget increase from FY21 to FY22. The FY23 Budget Request is estimated to be $150.1 million. According to the NASA Budget Request, the FY23 expanded budget will "expand initiatives to attract and retain underserved and underrepresented students in engineering and other STEM fields, in partnership with minority serving institutions and other higher education institutions."[4]  A complete list of NASA budget requests and performance reports can be reviewed on their website.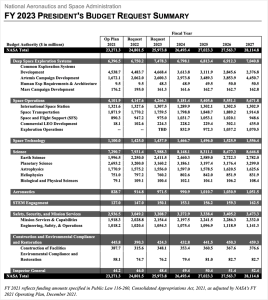 Source: NASA FY23 Budget Estimates
Updated November 2022 by Jennifer Ostromecki