Centers
NASA Headquarters in Washington, DC provides overall guidance and direction to the agency, under the leadership of the Administrator, Bill Nelson. The five Mission Directorates are based at NASA Headquarters. However, much of the work performed by NASA is done elsewhere. Ten field centers and a variety of installations conduct the day-to-day work, in laboratories, on airfields, in wind tunnels and in control rooms.
The map below shows the locations for each center, which are spread across the country.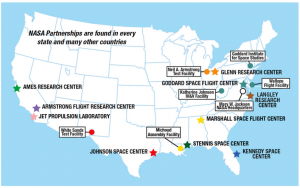 Source: NASA
The locations and brief description of capabilities of NASA's centers and facilities are identified below:
Moffett Federal Airfield, California
Karen C. Bradford
Director of Partnerships
650-604-2251
Ames Capabilities
Air Traffic Management
Entry Systems
Advanced Computing and IT Systems
Intelligent/Adaptive Systems
Small Spacecraft Technology and Missions
Astrobiology and Life Science
Space and Earth Sciences
Edwards Air Force Base, California
Samantha Hull
661-276-3368
Armstrong Capabilities
Spacecraft/Aircraft Loads, Instrumentation & Systems Integration
Thermal & Ground Testing
Thermal Analysis & Systems Development
Flight Testing of Unique Research Vehicles & Space Systems
Enable Low-cost Access on Commercial Suborbital Space Platforms
Global Atmospheric Research
Cleveland, Ohio and Sandusky, OH
Harvey L. Schabes
Chief, Technology Transfer Office
216-433-5309
Glenn Capabilities
Air-Breathing Propulsion
Electric Propulsion
Power Systems
Communications
Materials
Physical Sciences
Major Test Facilities including Aero-Propulsion Wind Tunnels & Engine Test Cells
R&D Labs including the World's Largest Vacuum Facility
Greenbelt, Maryland and Wallops Island, Virginia
Darryl R. Mitchell
Chief, Strategic Partnerships Office
301-286-5169
Goddard Capabilities
Earth System Observation & Modeling
Instrument Development & Miniaturization and Characterization
Distributed Sensing
Space Weather
Spacecraft Development & Integration
Robotic Acquisition, Servicing & Assembly
Space Communications
Launch Range and Suborbital Services
Washington, D.C.
Joseph F. Kroener
Director, NASA Partnerships Office
202-358-2558
Click here to watch A message from the Director
Kent Bress
Director, Aeronautics and Cross Agency Support Division
Office of International and Interagency Relations
202-358-0269
Pasadena, California
Louise Hamlin
Manager, JPL Program Office
818-393-6048
JPL Capabilities
Remote Sensing Systems
Advanced Optics
Robotics & Autonomy
Communication & Navigation Systems
Avionics
Mission Design & Concurrent Engineering
Earth Science Research & Applications Development
Data Analytics
NOTE:  JPL is a Federally-Funded Research and Development Center operated on behalf of NASA by the California Institute of Technology (Caltech).  Any partnership agreements committing JPL resources are subject to the review, approval, and execution by the NASA Management Office (NMO) at JPL, Nar Nazari, NMO Agreements Manager, 818-354-5619.
Houston, Texas and Las Cruces, New Mexico
Sam Gunderson
Lead, Partnership Development
Johnson Capabilities
Human Spaceflight Design, Development, Systems Integration & Mission Operations
ISS Coordination & Access
Crew Training & Mission Planning
Life Support Systems
Space Suits
Human Health & Safety in Space
Orbital Debris
Facility Available for High-Pressure Oxygen Systems, Materials & Rocket Propellant Testing
Cape Canaveral, Florida
Robyn L. Mitchell
Chief, Partnerships Development Office
321-861-8038
Kennedy Capabilities
Launch & Landing Capabilities & Technologies
Available Land
Vehicle, Payload, Spacecraft & Small Satellite Processing
Integration & Testing
Plant Research & Production
Hampton, Virginia
Carrie Rhoades
Lead, Partnerships
757-864-8793
Langley Capabilities
Entry, Descent & Landing
Aerosciences
Atmospheric Characterization
Systems Analysis and Concepts
Advanced Materials and Structural Systems
Intelligent Flight Systems
Huntsville, Alabama and New Orleans, Louisiana
Preston Schmauch
Partnerships and Formulation Office
256-544-1218
Marshall Capabilities
Chemical Propulsion Development, Testing & Technology
Habitat & Environmental Control
Life Support Systems Development, Testing & Technology
Facility Available for Large Scale Manufacturing & Equipment
Bay St. Louis, Mississippi
Gary Taylor
Manager, Strategic Business Development
228-688-7244
Stennis Capabilities
Propulsion & Launch Systems Test & Technology
Test Operations & Engineering Consulting
Lease Opportunities for Commercial Space Activities
Small UAV & Lander Test Sites
Source: NASA
Updated September 2022 by Jennifer Ostromecki