Stennis Space Center (SSC)
Stennis Space Center (SSC), located in southern Mississippi, serves as NASA's primary rocket propulsion testing facility. In addition, SSC is home to the Rocket Propulsion Test Program, which manages all NASA propulsion test facilities. The center also provides propulsion test services to the Department of Defense and commercial sector. Currently, Stennis is involved in testing the RS-25 engines that will help power the Space Launch System.[1]
Stennis is home to the Engineering & Test Directorate, which has oversight of several rocket engine propulsion test programs, and is responsible for the safe operation of national test facilities.[2] 
Additionally, Stennis serves as the home to the Rolls-Royce North America Outdoor Jet Engine Testing Facility, and the Aerojet Rocketdyne rocket engine assembly facility, as well as Lockheed Martin's Mississippi Space and Technology Center. Also headquartered at Stennis are the Naval Meteorology and Oceanography Command, and the Naval Research Laboratory (NRL).[3]
The leadership team for Stennis Space Center is shown below.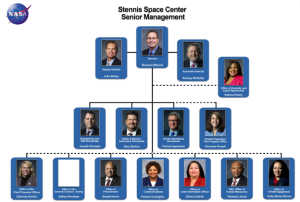 Source: NASA
Doing Business with Stennis
Information on doing business with Stennis Space Center is available here.
Stennis: Mission Brochure/Fact Sheets
Updated by Jackie Johnson October 2022