OFFICE OF THE ASSISTANT SECRETARY OF THE NAVY FOR RESEARCH, DEVELOPMENT AND ACQUISITION [ASN (RDA)]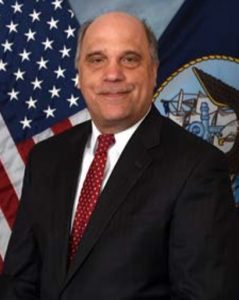 Mr. Frederick J. (Jay) Stefany, Principal Civilian Deputy to the Assistant Secretary of the Navy for Research, Development and Acquisition (ASN RDA), Performing the Duties of Assistant Secretary of the Navy (Research, Development and Acquisition)[1]
The Assistant Secretary of the Navy for Research, Development and Acquisition [ASN(RDA)] serves as the Navy Acquisition Executive (NAE). The Assistant Secretary is responsible and accountable for all acquisition functions and programs, and enforces the Under Secretary of Defense for Acquisition, Technology and Logistics [USD(AT&L)] procedures. The Assistant Secretary represents the Department of the Navy (DoN) to USD(AT&L) and to Congress on all issues pertaining to acquisition policy and programs. Further, the Assistant Secretary determines policies and procedures and oversees the Navy's research, development and acquisition efforts according to the DoD 5000 Series on ACAT ID programs.[2]
The ASN(RD&A) organization is accountable for the development and acquisition of Navy and Marine Corps weapons systems. The organization is comprised of immediate staff to the Assistant Secretary, Program Executive Officers (PEOs), Direct Reporting Program Managers (DRPMs) and the Naval Systems Commands and their field activities. The PEOs and DRPMs oversee the development and procurement of Naval systems, while the Naval Systems Commands and their field activities are accountable for systems acquisition and supporting those systems in the operating forces.[2]
An organization chart for the Office of the ASN(RDA) is available here.
Updated by Kristin Stiner, November 2023