COMMANDANT OF THE MARINE CORPS (CMC)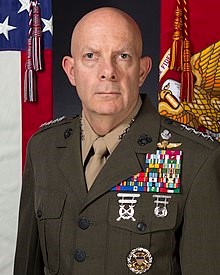 General David H. Berger, 38th Commandant of the Marine Corps (CMC) [1]
The Commandant of the Marine Corps (CMC) is typically the highest-ranking officer in the USMC and is a member of the Joint Chiefs of Staff. The CMC reports to the Secretary of the Navy (SECNAV) for ensuring the organization, policy, plans and programs for the Marine Corps. In addition, the CMC advises the President, Secretary of Defense, National Security Council, Homeland Security Council, and SECNAV on issues pertaining to the Marine Corps. Under SECNAV authority, the CMC designates Marine personnel and resources to the commanders of the Unified Combatant Commands.[1]
General David H. Berger assumed the duties as Commandant of the Marine Corps on July 11, 2019. He has commanded at every level, including a Reconnaissance Company; 3d Battalion, 8th Marines in Haiti during Operation SECURE TOMORROW; and Regimental Combat Team 8 in Fallujah, Iraq during Operation IRAQI FREEDOM. [1]
He is a native of Woodbine, Maryland, a graduate of Tulane University, and was commissioned in 1981.[2]
Updated by Kristin Stiner, April 2023