PM TRAINING SYSTEMS
The mission of Program Manager Training Systems (PM TRASYS), also known as PMM-130 Training Systems, is to provide training support and to develop and sustain training systems and devices to improve warfighting effectiveness of the Marine Air-Ground Task Force (MAGTF) and globally deployed maritime expeditionary forces. PM TRASYS, located in Orlando, Florida, is the training systems acquisition arm for the Marine Corps. Various training products that PM TRASYS provides include simulators, mock weapons, range targets and range instrumentation. Additionally, PM TRASYS provides training technology research and development (R&D), distributed learning capabilities, training observation capabilities, after-action review systems, training personnel and combat environment role players. [1]
PM TRASYS PRODUCT MANAGERS
PM TRASYS has three product managers:
SYNTHETIC TRAINING SYSTEMS
The Product Manager for Synthetic Training Systems (PdM STS) provides immersive synthetic training environment systems from individual Marine elements to Marine Expeditionary Force (MEF). This multi-echelon training in command and control, tactical decision-making, operational planning and evaluation, combined arms, and fire support enables Marine training in familiarity and functionality in areas including weapons platforms, individual and unit tactics, basic and advanced combat convoy operations, combat vehicle gunnery proficiency, motor transport tactical vehicle operator driving skills, and marksmanship. Together, these skills enhance live fire performance, combat readiness, and overall force lethality.[2]
RANGE TRAINING SYSTEMS
The Product Manager for Range Training Systems (PdM RTS) provides live force-on-force, force-on-target tactical engagement training and dynamic capabilities for real time and post mission battle tracking and after-action review for USMC bases and stations. RTS also provides support to more than 1,400 range training areas across the Marine Corps enterprise - working directly with Naval Facilities Engineering Command on military construction projects toward range modernization efforts that require site preparation as well as simulator buildings.[2]
TRAINING SYSTEMS SUSTAINMENT AND SUPPORT SERVICES
The Product Manager for Training Systems Sustainment and Support Services (PdM TS4) provides the Program Manager for Training Systems life cycle sustainment and support services across the training enterprise. TS4's managed efforts include Electronics Communications Services (ECS) Multiple Award Task Order Contract (MATOC), Equipment Related Services- Systems (ERS-S) MATOC, Ground Training Systems Support, and Marine Air-Ground Task Force (MAGTF) Training Systems Support (MTSS).[2]
ORGANIZATIONAL CHART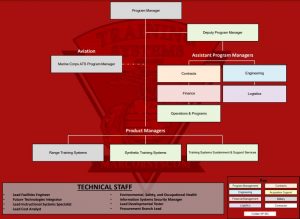 Source: Marine Corps Systems Command [3]
Updated by Kristin Stiner, April 2023