WHAT IS A TECHNOLOGY READINESS LEVEL?
A Technology Readiness Level (TRL) is an accepted way of measuring the degree of maturity of a technology. Originally developed by NASA, TRLs have been adopted by DoD and serve as the basis for conducting technology readiness assessments. Technology Readiness Assessments (TRAs) are mandated at Milestone B and Milestone C for all acquisition programs. "A TRA is a systematic, metrics-based process and accompanying report that assesses the maturity of certain technologies called Critical Technology Elements (CTEs) used in systems."[1]
The TRL scale ranges from level one through level nine:
TRL 1: Basic principles observed and reported
TRL 2: Technology concept and/or application formulated
TRL 3: Analytical and experimental critical function and/or characteristic proof of concept
TRL 4: Component and/or breadboard validation in a laboratory environment
TRL 5: Component and/or breadboard validation in a relevant environment
TRL 6: System/subsystem model or prototype demonstration in a relevant environment
TRL 7: System prototype demonstration in an operational environment
TRL 8: Actual system completed and qualified through test and demonstration
TRL 9: Actual system proven through successful mission operations.
WHO DETERMINES THE TECHNOLOGY READINESS LEVEL OF A TECHNOLOGY?
When a Technology Readiness Assessment (TRA) is performed at Milestone B or Milestone C, the TRL is determined by independent reviewers who are independent of a program and an expert in their field. Before beginning a TRA, the reviewers are provided with training that includes an overview of the system, an overview of the TRA process, criteria for identifying Critical Technology Elements (CTEs), and examples and instruction for applying TRLs. The TRL reported in the Technical Risk Assessment is one of a number of factors that determine technical risk. Other technical risk factors include design, cost, schedule, manufacturability, architectures, and productibility.
HARDWARE
HOW CAN YOU CONFIRM THE TECHNOLOGY READINESS LEVELS FOR HARDWARE?
The description and supporting information that accompany each of the TRLs help determine the degree of technology readiness.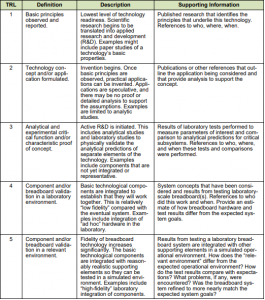 Source: Technology Readiness Assessment Deskbook[1]
SOFTWARE
WHAT ARE THE TECHNOLOGY READINESS LEVELS FOR SOFTWARE?
When you are trying to determine which TRL best fits your current stage of development, be sure to read the description and the supporting information column. Select as your TRL, the description for which all or most of the supporting information and descriptions are true.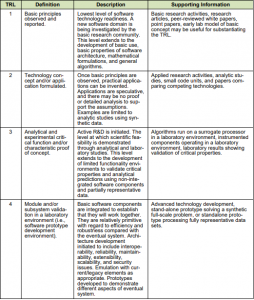 Source: Technology Readiness Assessment Deskbook[1]
BREADBOARD, MODEL, PROTOTYPE, AND RELEVANT ENVIRONMENT
DEFINITIONS THAT HELP CONFIRM TECHNOLOGY READINESS LEVEL
The following definitions come from the DoD Technology Readiness Assessment Deskbook (2009) and help remove ambiguities in use of terms, used in defining Technology Readiness Levels (TRLs).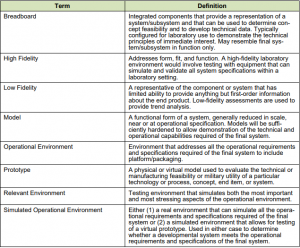 Source: Technology Readiness Assessment Deskbook[1]
Updated by Kristin Stiner, March 2023