PfM Logistics Combat Element Systems
The mission of Portfolio Manager (PfM) Logistics Combat Element Systems is to equip and sustain the Fleet Marine Force with Engineering, Supply, Maintenance, Ammunition and Tactical Wheeled Vehicle systems and solutions to enable lethality.[1]
PfM LCES Lines of Effort
PROGRAM MANAGER AMMUNITION supports all Marine Corps ground conventional ammunition, explosives and related items throughout their entire lifecycle. PM Ammunition provides the following for Marine Corps ammunition on a global scale:

operational logistics
supply chain and distribution management
maintenance and strategic prepositioning[1]
Ammunition teams include:
Maneuver Ammunition & Missile
Close Combat & Combat Ammunition
Environmental and Explosives Safety
Inventory Management, Plans & Analysis
Ammunition Acquisition & Operations[1]
PROGRAM MANAGER ENGINEER SYSTEMS provides full lifecycle support for Combat Engineer Systems, Explosive Ordnance Disposal, Power Systems, Environmental Control Systems, Bulk Fuel Systems and Bulk Water Systems.
PROGRAM MANAGER LIGHT TACTICAL VEHICLES (LTV) fields and sustains safe, reliable, effective and supportable light tactical vehicles and trailer systems for Marines worldwide.[1]
PROGRAM MANAGER MEDIUM/HEAVY TACTICAL VEHICLES (MHTV) manages the acquisition and life-cycle sustainment of MHTV systems to support the operating forces and their mission.[1]
PROGRAM MANAGER SUPPLY & MAINTENANCE SYSTEMS provides a wide range of equipment and support including:
Expeditionary Medical Systems (EMS)
Shelters
Combat Field Feeding
Containers (S/CFF/C)
General Purpose Tools and Test Systems - Calibration (GPTTS-C)
Automatic Test Systems (ATS)
Corrosion Prevention and Control (CPAC)[1]
Organizational Chart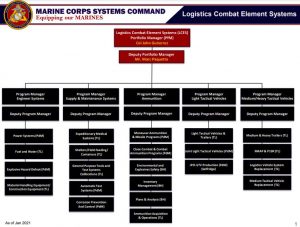 Source: U.S. Marine Corps, 2021 [2]
Updated by Kristin Stiner, April 2023