PFM COMMAND ELEMENT SYSTEMS
The mission of Portfolio Manager Command Element Systems (PfM CES) is to provide and maintain command and control, communications and intelligence (C3I) capabilities to the Marine Air Ground Task Force (MAGTF).
Program Managers (PM) within PfM CES include:
PM Command & Control Systems (C2S)
PM Communications Systems
PM Intelligence Systems
PM Wargaming Capability [1]
ORGANIZATIONAL CHART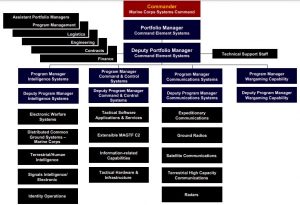 Source: Marine Corps Systems Command, 2020 [2]
PM COMMAND & CONTROL SYSTEMS (C2S)
PM C2S provides a portfolio of command and control systems; integration, interoperability and situational awareness; and counter-improvised explosive devices and Force Protection Systems for the MAGTF. These technologies are needed to ensure that commanders have access to information needed to make decisions on and off the battlefield environment.[1]
PM COMMUNICATIONS SYSTEMS (CS)
PM Communication Systems provides and sustains capabilities from tactical communication systems to networking and satellite communications needed to accomplish MAGTF missions across the range of military operations so that Marines can observe, recognize, decide, and act quickly in combat. [1]
PM INTELLIGENCE SYSTEMS (IS)
PM Intelligence Systems procures capabilities to collect, process, exploit and disseminate signal, human and geospatial intelligence as well as other forms of intelligence-related information. Timely, actionable intelligence, received through these intelligence systems, enables the MAGTF to develop plans for fires and maneuvers.[1]
PM WARGAMING CAPABILITY
Program Manager Wargaming Capability develops material solutions to enhance and sustain Marine Corps wargaming capabilities through the implementation of modernized functionality.[1]
PfM CES S&T Areas:
AMWS (IS)
Antenna Electrocution (CS)
Artificial Intelligence/Machine Learning INP (C2S)
Beyond Line Of Sight Communications (CS)
CRIT (IS)
Data in Transit Algorithms (C2S)
EAITE (C2S)
ENDOR FNC (IS)
Incadence Advanced Biometrics Device (IS)
Information Assurance Multilevel Security (C2S)
Innovative Algorithms (IS)
LPI/LPD (CS and C2S)
LRI/LPD Communications for HiMAR (GCES & FSS)
UES TFT (IS & C2S) [2]
Updated by Kristin Stiner, April 2023