DEPUTY COMMANDANT COMBAT DEVELOPMENT & INTEGRATION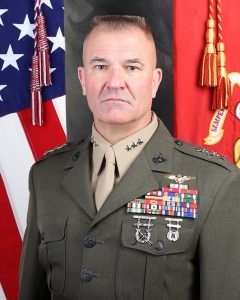 Lieutenant General Karsten S. Heckl, Deputy Commandant, Combat Development and Integration & Commanding General, Marine Corps Combat Development Command [1]
Deputy Commandant, Combat Development and Integration (DC, CD&I) is the institutional and intellectual epicenter for the evolution of the Marine Corps. CD&I identifies and facilitates the fielding of warfighting capabilities through the development and validation of concepts, identification of capabilities, and the development of solutions. The main focus of CD&I is on the individual Marine whether it is to champion urgent needs from the field, enhance training and education programs, experiment with new tactics and technologies, or to incorporate lessons learned.[2]
MISSION
The mission of the MCCDC is to oversee and support the development, implementation and maintenance of training and education programs, as well as support the Marine Corps Force Development Systems. The CD&I's mission is to develop future operational concepts and determine how to organize, train, educate and equip warfighters.[2]
HISTORY
In 2005, the Commanding General for the Marine Corps Combat Development Command (MCCDC) became dual hatted as the DC, CD&I. At this point, DC, CD&I became responsible for leading integration of USMC warfighting capabilities through Capabilities Based Planning (CBP). To support the CBP process, the Marine Corps Warfighting Laboratory (MCWL) and Capabilities Development Directorate (CDD) were aligned under DC, CD&I. Today, DC, CD&I heads the execution process and collaborates with numerous stakeholders across Headquarters Marine Corps (HQMC), the operating forces and support establishments.[3]
CD&I ORGANIZATION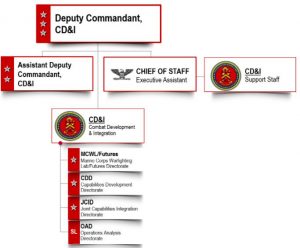 Updated by Kristin Stiner, May 2022