OPNAV RESOURCE SPONSORS
The Chief of Naval Operations (CNO) ensemble includes assistants in various positions such as the Vice Chief of Naval Operations (VNCO), the Deputy Chiefs of Naval Operations (DCNOs), the Assistant Chiefs of Naval Operations (ACNOs), and other ranking officers. Collectively, these officers and their staffs are known as the Office of the Chief of Naval Operations, or OPNAV.[1] OPNAV functions are split between resource sponsors and requirement sponsors. Resource sponsors, which include six DCNOs, represent specific programs and navigate through the Planning, Programming, Budgeting and Execution System (PPBES). Requirement sponsors, in coordination with the resource sponsor where separately assigned, perform as the user representative and gives specific direction pertaining to mission and operational requirements development and changes, program funding, and preparation and approval of required program documentation.
OPNAV Resource Sponsors include:
DCNO for Manpower, Personnel, Training and Education (N1)
DCNO for Information Dominance (N2/N6)
DCNO for Operations, Plans, and Strategy (N3/N5)
DCNO for Fleet Readiness and Logistics (N4)
DCNO for Integration of Capabilities and Resources (N8)
DCNO for Warfare Systems (N9)[2]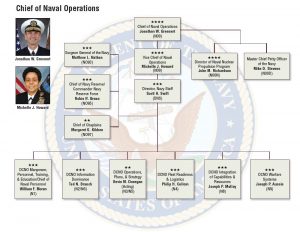 Source: USNI, 2015[3]
*This organizational chart depicts the command structure of the Chief of Naval Operations. Command changes have most likely occurred since the chart's publication and those listed may have been replaced.
Updated by Kristin Stiner, February 2020